Child Victim Witness Support
Child Victim Witness Support Program
—
Boost's Child Victim Witness Support Program (CVWSP) is for any child or youth who may need to testify in a criminal court proceeding. Court preparation and support is offered across the Central Region, including Barrie, Peterborough, Midland, Orillia, Bradford, Collingwood, Lindsay and Cobourg.
Accredited Facility Dogs

—
The use of Accredited Facility Dogs (AFDs) is an increasingly popular aid in providing support for children and youth involved in the justice process. The dogs help provide reassurance and have a calming affect on young victims and witnesses during their court testimony, in forensic interviews, meetings with the Crown Attorney, while waiting to testify, and post-court services. Boost CYAC has three Accredited Facility Dogs; Iggy, Jersey and Aria who are available to children and youth in the Toronto and Peterborough offices.  Learn more about the BARK program here.
Remote Testimony

—
During the pandemic courthouse closures caused a significant number of adjournments for cases involving child witnesses.  Most cases moved to remote/virtual testimony which allowed families to attend the Boost CYAC to provide their testimony, decreasing their exposure to others in a larger, busier courthouse.  As a result of this pivot, remote testimony continues to take place at our Toronto and Peterborough offices.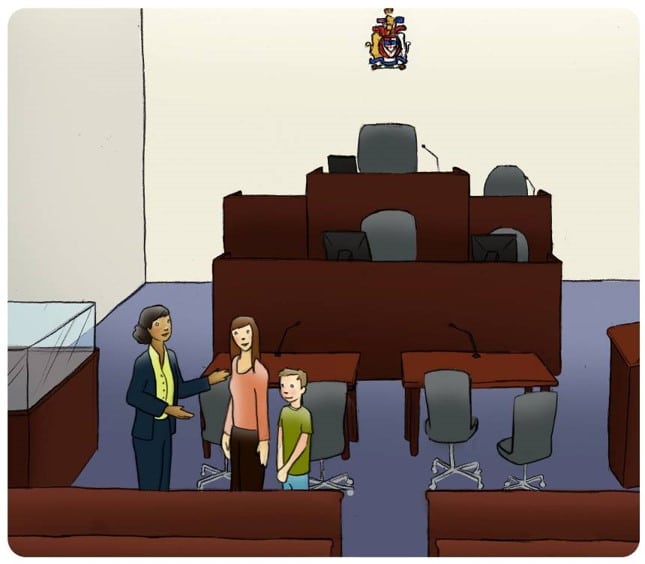 It can be stressful for a young person to have to testify in court. The CVWSP helps reduce that stress (as well as the stress felt by a parent/caregiver) by explaining what to expect, and by providing help to navigate the criminal justice system.
Referrals
—
Referrals can be made for anyone aged 3 to 17 years of age who is expected to testify in court in the Toronto or Central Region of Ontario. Referrals will be accepted from police, child protection workers, Crown Attorneys, victim witness workers, other professionals as well as families. Each of our three offices processes their own referrals.
Tel: (416) 515-1100 ext.59231