Bark Program/Programme Bark
For children and youth

….
who have experienced abuse and/or trauma, navigating our justice system can be lengthy and very challenging. Finding innovative ways to address their needs is a necessary part of supporting children and youth. Facility dogs help to keep children and youth calm and focused throughout their testimony. They provide comfort and support during what can be a stressful and difficult experience. Children who are less anxious are more likely to provide candid and accurate testimony.
Pour les enfants et les adolescents

….
qui ont été victimes d'abus et/ou de traumatismes, naviguer dans notre système judiciaire peut être long et très difficile. Trouver des moyens novateurs de répondre à leurs besoins est une partie nécessaire du soutien aux enfants et aux adolescents. Les chiens d'assistance aident les enfants et les adolescents à rester calmes et concentrés pendant leur témoignage. Ils leur apportent réconfort et soutien pendant ce qui peut être une expérience stressante et difficile. Les enfants qui sont moins anxieux sont plus susceptibles de fournir un témoignage franc et précis.
BARK Program
—
Boost Accredited Reliable K9s (BARK) program provides additional support to children and youth through the use of Accredited Facility Dogs. Iggy, Jersey and Aria are specially trained and provide comfort and support to children and youth in the Toronto and Peterborough offices.
Programme BARK
—
Le programme Boost Accredited Reliable K9s (BARK) offre un soutien supplémentaire aux enfants et aux adolescents grâce à l'utilisation de chiens d'établissement accrédités. Iggy, Jersey et Aria sont spécialement entraînés et apportent confort et soutien aux enfants et aux adolescents dans les bureaux de Toronto et de Peterborough.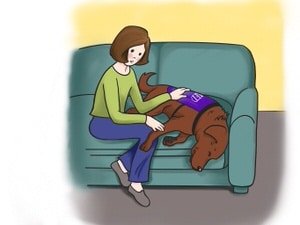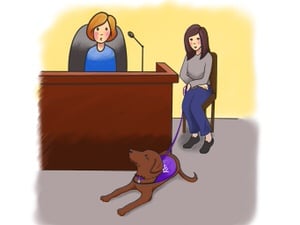 A Friend Like Iggy

—
This is a true story about Iggy, a special dog who helps kids get through difficult times. When children disclose abuse, they often must navigate an unfamiliar chain of events, sometimes even needing to testify in court. Iggy's job is to make each child he meets comfortable. He eases the way with his gentle, non-judgemental friendship. He can be present for police interviews, counseling sessions, court preparation, and testifying.  The book is in English and can be purchased here.