I'm A Great Kid! (GRADES 3 TO 6)
I'M A GREAT KID! (GRADES 3 TO 6)
—
Our evidence-based primary prevention programs empower children to think and act in positive ways. The I'm A Great Kid! program includes a 20 minute DVD (with six 5-minute teaching modules) and a guide that can be used to introduce and reinforce the following basic concepts:
the importance of building positive self-esteem
developing effective communication skills
making good choices
respect
learning how and where to get help
understanding different kinds of touch
This program teaches children primary prevention skills appropriate for their age and stage of learning and development. The accompanying guide provides strategies to reinforce the concepts introduced in each video through classroom activities.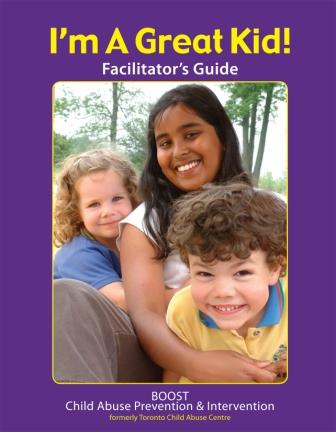 I'M A GREAT KID! / I'M A GREAT LITTLE KID! TEACHER TRAINING
This workshop helps to prepare professionals to implement the I'm A Great Little Kid! and I'm A Great Kid!
programs with children ages 4 to 11.
For more information or to book training, please contact:
Audrey Rastin
Director of Prevention Education
(416) 515-1100 ext. 59229
rastin@boostforkids.org
Referrals
—
Referrals can be made for anyone aged 3 to 17 years of age who is expected to testify in court in the Toronto or Central Region of Ontario. Referrals will be accepted from police, child protection workers, Crown Attorneys, victim witness workers, other professionals as well as families. Each of our three offices processes their own referrals.
Tel: (416) 515-1100 ext.59231